EDIT™ Worksheets | Believe In Your Self
Recovery #6 | Goodbye Letter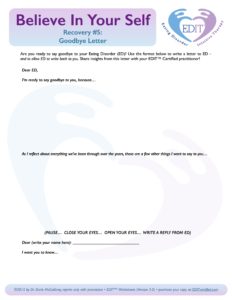 Goodbye letters are a powerful therapeutic tool for any client. This worksheet in particular is quite healing for our clients as it gives them a chance to say goodbye to the very thing that has plagued them for so long. By externalizing ED, clients are able to personify him or her so that they can better address ED and say goodbye forever. When walking the client through this portion of the worksheet, ask clients to think about what ED has told them, shown them and taught them and have them respond to that.
The second part of this worksheet is just as powerful as clients can respond from the stance of ED. What would ED want them to know about themselves? Are they stronger than they think they are? Did ED teach them anything valuable? Encourage clients to be gentle with themselves during this exercise, writing letters like this take time and can stir up a lot of emotion. But, at the end of the day, the client will find greater strength and freedom after courageously saying goodbye to ED.
HERE IS AN EXAMPLE OF WHAT A CLIENT MIGHT WRITE:
Dear ED,
I'm ready to say goodbye to you because you are like the best friend I gave my heart to that only turned around and stabbed my back. I trusted you with my insecurities and I showed you all of the things that made me scared. You held my hand and showed me how to take the pain away. You taught me to lie about what I ate and you taught me how to conceal and how to purge. The only issue, though, is that you didn't help the pain go away. You only made the pain worse. I'm ready to feel the emotions I've been too scared to feel and I'm ready to find complete healing and wholeness outside of you. It's no longer working having you as a crutch and I can no longer use you in that way. You are only making matters worse and I am choosing to move on with my life without you by my side. 
As I think back to all of the things we've been through over the years, these are a few other things I want to say to you. First off, I trusted you and you forsook my trust. You didn't make matters better the way you promised, and I need to forgive you (and myself) for that. Second of all, you became the only voice I heard when I went to bed at night and when I sat down to a meal. I want you to know that I've found my own Voice aside from you and because of that, I'm going to be okay. I'm going to be able and live a healthy, full life. And lastly, I want you to know that I blame you for teaching me things I wish I had never learned. I learned how to lie, how to cheat, how to hide food, and how to manipulate the scale. You are a stealthy one, ED! But, in an effort to move on with my life, I plan to walk in truth and freedom instead of in lying and being imprisoned by you. You no longer have power over me ED. Our relationship is over but I know that it is for the better.
Sincerely,
Your old friend
*****
AND, WHAT ED MIGHT WRITE BACK TO THE CLIENT:
Dear old friend,
I want you to know that I never meant to hurt you. You seemed like you were hurting, and I was trying to take away your pain. But you are right, I only make the pain worse. I can see how much stronger you are now, and you don't need me. Of course, I'm here if you ever need me – but I hope you stay on your healthy path of recovery. You are better off without me, and I'm glad you are ready to say goodbye! 
*****
LEARN MORE ABOUT EDIT™ WORKSHEETS:
EDIT™ RESOURCES
HANDS-ON LEARNING OF TECHNIQUES TO GUIDE CLIENTS:
EDIT™ RETREAT