"Dr. Dorie" McCubbrey, MSEd, PhD, LPC, CEDS
Creator of the EDIT™ Treatment Approach
Owner & Clinical Director, Positive Pathways Ltd
Eating Disorder Intuitive Therapy (EDIT)™ is the "complete recovery" treatment approach developed by "Dr. Dorie" McCubbrey, MSEd, PhD, LPC, CEDS – it was initially created in 1995, following her own journey of recovery from Anorexia, Bulimia, and Binge Eating Disorder. Dr. Dorie has been a specialist in the treatment of eating disorders for more than 20 years, during which time she has further refined her EDIT™ theory and techniques. She began teaching others her methods in 2003, and in 2013 the EDIT™ Certified training program was launched, providing a standardized credentialing process for health professionals who are interested in obtaining a thorough knowledge and clinical skills to work with eating disorders.
Dr. Dorie holds a Master's Degree in Counseling from the University of Akron, and a Doctorate in Biomedical Engineering from the University of Michigan. This unique combination of credentials allows her to address the complex psychological issues which underlie eating disorders, as well as physical issues including nutrition, intuitive eating, fitness and body image. She is a Licensed Professional Counselor in the State of Colorado (LPC.0002532). As a LPC, Dr. Dorie is familiar with mental health issues which often co-occur with eating disorders, such as alcoholism and other addictions, depression, and anxiety. She is also a Certified Eating Disorder Specialist (CEDS) – a credential awarded by the International Association of Eating Disorder Professionals (iaedp).
Dr. Dorie is the best-selling author of Dr. Dorie's Don't Diet Book (Positive Pathways Press, 1998), How Much Does Your Soul Weigh (HarperCollins, 2003), plus numerous workbooks, CDs and videos about eating disorders and weight issues. Her expert commentary has been featured in magazines including Glamour, Shape and Natural Health. She has also been interviewed on national television shows including the FOX News Channel. She is currently finishing work on her third book, which highlights the five principles of EDIT™ and illustrates the application of the EDIT™ treatment approach. EDIT™ RESOURCES
Dr. Dorie's outpatient counseling practice, Positive Pathways, is currently located in Denver, Colorado. She founded Positive Pathways in 1995, and it was originally located in Canton, Ohio. Dr. Dorie relocated to Boulder, Colorado in 1999, and has been in Denver since 2008. At the Positive Pathways office, she trains and supervises EDIT™ Certified Counselors and EDIT™ Counselor Interns, and she also continues to provide treatment for clients in recovery from Anorexia, Bulimia, Binge Eating Disorder, Food Addiction, Obesity and other issues with food and weight. She provides traditional outpatient therapy using the EDIT™ method, and also develops customized 1-on-1 Intensive Outpatient Programs (IOPs) for individuals needing a higher level of care, as an alternative to group IOPs offered at most treatment centers. LEARN MORE ABOUT POSITIVE PATHWAYS
Dr. Dorie is a nationally known retreat leader and keynote speaker, and a former board member of the National Speakers Association (NSA). She currently provides EDIT™ training and certification programs in the Denver, Colorado area, and is also available for on-site training for groups of professionals. Her interactive programs empower participants through role plays and direct application of clinical skills. EDIT™ CERTIFIED OPTIONS
Sign Up to Receive Your FREE EDIT™ MINI-COURSE and start making a difference for clients with eating disorders NOW! Your first MINI-COURSE email will include the EDIT™ Eating Disorder Screening Tool with tips to detect "hidden" eating disorders.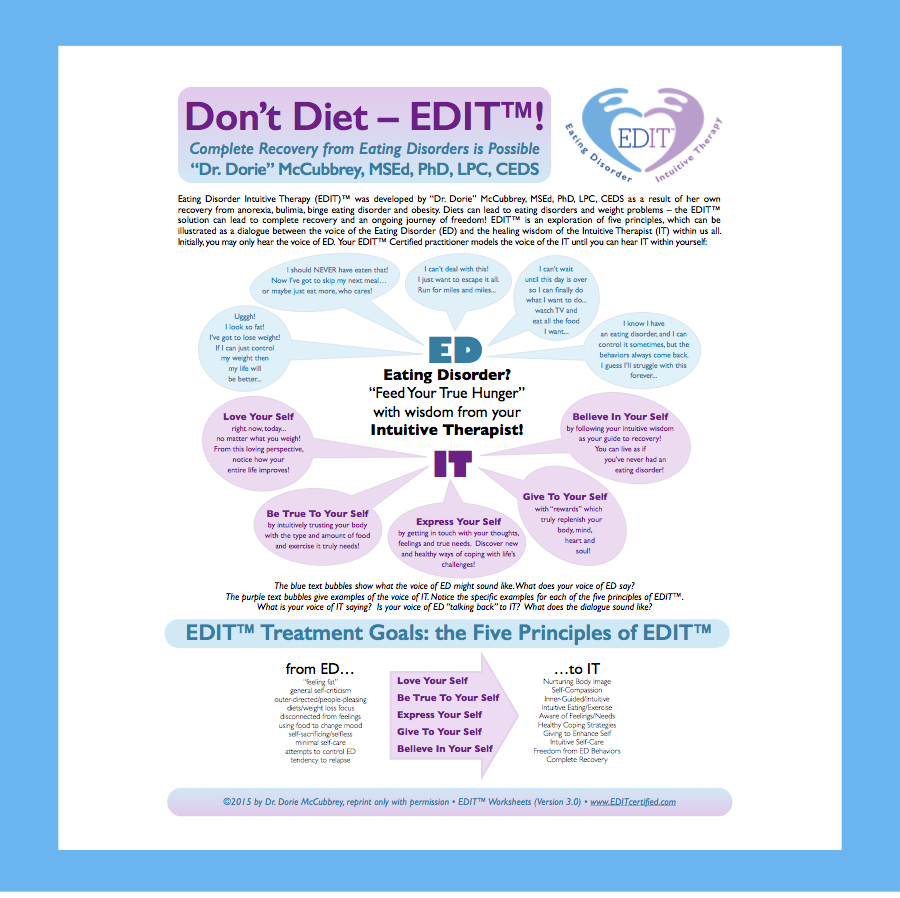 QUESTION about EDIT™ Certified? Ask Dr. Dorie and receive a prompt personal reply